Top 10 Things To Do on K'gari (Fraser Island)
Thursday July 7th, 2022
K'gari, literally meaning paradise, is a cornucopia of natural wonders, island magic and boundless rainforests. Whether you're here for the day or many, check out the top 10 most unforgettable spots to check out. Grab your swimmers, a hat and your best mates as you delve into sun-soaked beach sessions, freshwater lake dips and lush forest ventures!
---
1. Swim in Lake Boorangoora (Lake McKenzie)
With freshwater shores of the brightest turquoise and sapphire hues, Lake Boorangoora is a must-see spot in the heart of K'gari. Lake Boorangoora's dual-tone drop off lies within the most crystal-clear waters you've ever seen. Lined with lush forests and fine white sands, this is a truly special place to relax, play and enjoy!
---
2. Explore the forest at Central Station
A total fairy forest wonderland of towering Satinays and Tallowoods, Central Station holds both a rich history and dreamy reality. Once a major logging section of the island after European invasion, Central Station homed many loggers and their families. Now, there is an abundance of walks through lush eucalypt rainforests and stay at the peaceful campsite where you can unwind amongst nature's serenity!
---
3. Take a snap at Maheno Shipwreck
The S.S Maheno Shipwreck is an absolute K'gari bucket-list item, as well as a renowned photo opportunity. Head out to 75 Mile Beach at sunset to explore the historical ruins that washed up in 1935. Let the golden light, salty waves and tales of a history long-past entrance you as you visit this one-of-a-kind destination.
---
4. Float away at Eli Creek
Did somebody say a crystal-clear dip? Eli Creek, a winding source of fresh, sand-filtered water, separates the rainforests and sand dunes on the Eastern side of the island. The cool, crisp waters are a beautiful choice for a refreshing dip, relaxing float or even for a picnic along its shores! The perfect combination of tropical island vibes and freshwater delights await you at Eli Creek. Our tip: grab your inflatable and simply float away!
---
5. Discover the unique Hammerstone Sandblow
Bordering Lake Wabby, the Hammerstone Sandblow is a destination truly out of this world! This towering dune of golden sands is a geological and historical wonder. Thousands of years of erosion and wind activity have caused the Hammerstone Sandblow to form a barrage between the emerald Lake Wabby and the ocean. A unique adventure with magical vistas, we recommend a stop at this impressive destination!
---
6. Check out Lake Wabby
Venture across the vast Hammerstone Sandblow to reach the verdant Lake Wabby. A dazzling wonder where the flourishing treeline and jade waters, Lake Wabby is a beautiful stop on your next K'gari adventure. This site has a rich cultural place in Butchulla history and is the deepest on the island at 11.4m! Head up to the lookout for an incredible, surreal natural overview of Lake Wabby during your time on K'gari.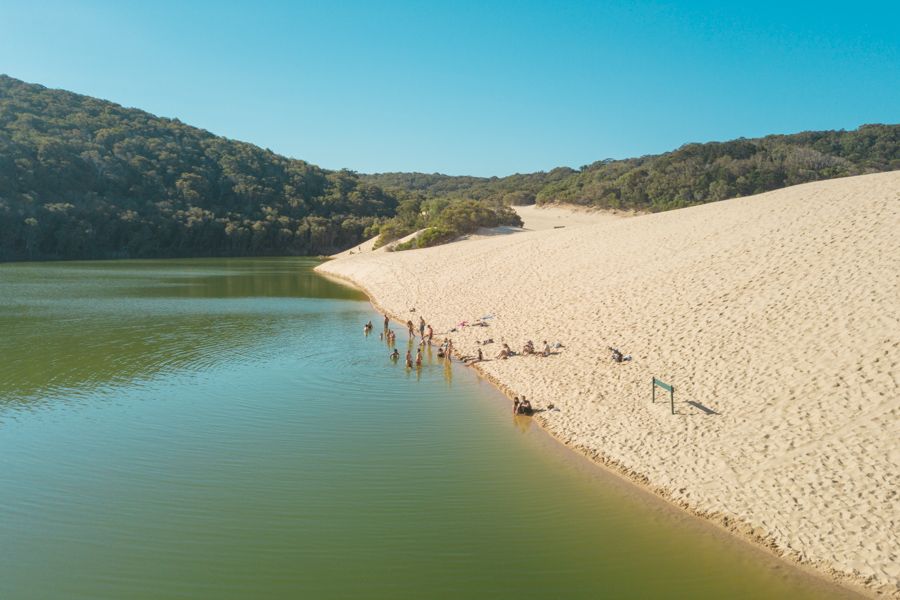 ---
7. Zoom down 75 Mile Beach
Hop in your 4WD and fly down the endless stretches of soft sands of 75 Mile Beach to complete your K'gari visit. A quintessential mode of transport bound to thrill and delight, driving down the beaches of this wonderful island will see your worries fly away in the wind! Zoom past crashing waves, expansive dunes and even dingoes in the distance as you tick four-wheel-driving off of your Aussie bucket list!
---
8. Relax in the Champagne Pools
Visit the bubbly magic of Champagne Pools for a relaxing, mystical treat! Natural rock pools formed from volcanic masses are filled with bubbly, breaking waves creating the effect of bathing in a literal champagne pool. Best enjoyed at mid-tide, this deluxe spa bath is a natural wonder of K'gari awaiting your visit!
---
9. Take in the views at Tukee Waroo (Indian Head)
Tukee Waroo, or Indian Head, is an incredible place for a coastal stroll. Be rewarded by endless, blue ocean views from the magnificent headland! Gaze out at this spot on the East Coast of K'gari, and keep your eyes out for dolphins and humpback whales, who often frequent the dazzling waters at different times of the year!
---
10. Cool off in Lake Garawongera
A great way to unwind from a day of adventure is a cooling dip in Lake Garawongera! A day-use area not far from Happy Valley, Lake Garawongera's tannin-stained waters are a calming and quiet place to take in the island life. Dive in and float amongst your tree-lined surroundings, lie on the white sands with a good book and hang out with great company in paradise!
---
To witness K'gari's marvels seamlessly, let our travel experts connect you with a multiday tour of this dazzling Aussie destination!
Chat to us live 24/7 or call us today!